Join TinkBird's Loyalty Program for Facilities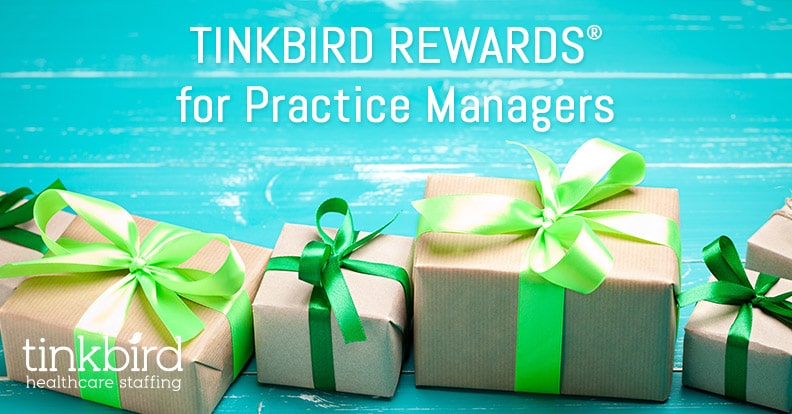 Book locum tenens providers for your summer clinic coverage, collect points, then choose from a variety of fabulous gifts for you or your practice. We offer this loyalty program to medical practices and hospitals because we appreciate your business. Here's how it works:
For every 8-hour shift you book with TinkBird, you are rewarded points.
The more shifts you book, the more points you earn.
Points are collected and can be used to "purchase" anything you choose from an online catalog of nearly 400,000 items – a cooler, a purse, travel, event tickets? You choose!
So for example, book 2 shifts per week for 1 month, and earn 100 points. If you book multiple shifts per week for consecutive months, your points accumulate faster:


*If you book 30 days, then extend your confirmation for additional months, we add the difference for the additional months.
**Shifts must be booked within a calendar month. Ex: June 1-30 qualifies, June 15-July 15 does not qualify.
What Sort of Prizes, You Might Ask?
100 points can redeem for movie tickets, silver bracelet, wallet
250 points can redeem for digital camera, coffee maker, amethyst necklace
500 points can redeem for Wustof steak knives, designer sunglasses, watch
1000 points can redeem for google play tablet, outdoor fire pit, 22" LED tv
2000 points can redeem for Apple watch, .23 ct diamond earrings, iPad mini
You'll get your own password to access our merchandise website, and choose for yourself. The OPTIONS are endless!
If you're already a TinkBird customer, then ask your rep for details. If you've just discovered TinkBird, then let's get you on board! Call any of our regional offices, or send us an email using the online form. We look forward to working with you.